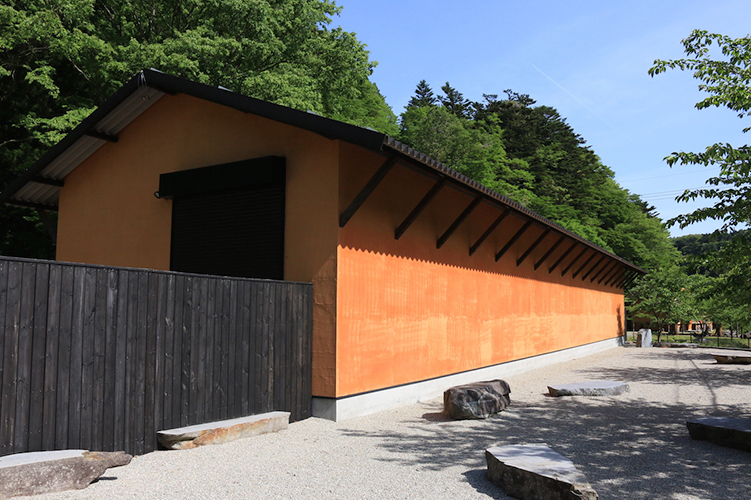 Kishio Suga Souko Museum opened in 2008. Souko is the Japanese word for 'storage' the museum adopts this name because it provides Suga with much-needed storage and exhibition space for both small and large-scale works. Muroi's concept of having art contribute to wellbeing and contemplation at Daikokuya ryokan, together with his long-term interest in Suga's work, manifested in his decision to open a purpose-built gallery for Suga. Usually 300 or so works are exhibited at a time, and this selection changes regularly, and spans Suga's career from 1970 to the present.
The museum is open daily for a tour at 10am that takes in the gardens designed by Suga, in addition to his artworks both in the museum and the surrounding area.

We are also very happy to talk with those interested in purchasing Suga's works from Souko Museum.
Opening hours 10:00-11:00
Admission : 500yen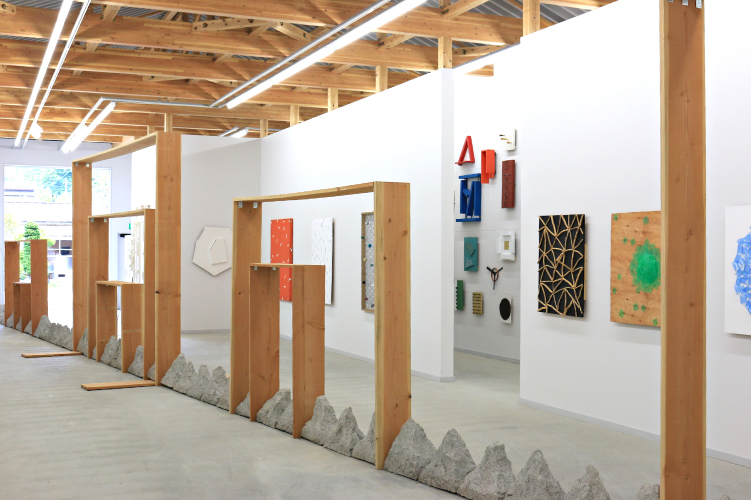 Kishio Suga's Biography
Suga was born in 1944 in Iwate Prefecture. He currently lives and works in Shizuoka Prefecture.
On graduating from Tama Art University in 1968, he soon became recognized as a key member of the Mono-ha group, a movement at the forefront of Japanese art in the late 1960s and 1970s.
Since his first solo exhibition in 1968, he has had numerous solo shows in Japan, including at the Iwate Museum of Art, Yokohama Museum of Art, Chiba City Museum of Art, and Hiroshima City Museum of Contemporary Art.
In 2015 Suga presented two concurrent large-scale solo exhibitions, in Vanji Sculpture Garden Museum (Shizuoka) and Tokyo's Museum of Contemporary Art. Both exhibitions received international praise and contributed to his being granted the national Mainichi Art Award.
Suga's international exhibitions include the Venice Biennale (1978), 'Japon des Avant-gardes 1910-1970' (Pompidou Center, Paris, 1986), 'Japanese Art after 1945: Scream against the Sky' (Guggenheim Museum, New York, 1994), 'Requiem for the sun: The art of Mono-ha' (Blum & Poe, LA, 2012), 'Tokyo 1955-1970 A new avant-garde' (MoMA, New York, 2012) and 'Prima Materia' (Punta della Dogana, Palazzo Grassi, Venice, 2013).

Suga's relationship with Daikokuya traces back to 1990, when he constructed his first garden there. Since then, Suga has installed a further four gardens, and Daikokuya has hosted several solo shows of his new works. Between 2002 and 2014 Daikokuya staged annual shows of Suga's new works, and many pieces are still to be seen in Daikokuya's corridors and guest rooms. For both resident guests and day visitors to Daikokuya, Suga's works can be studied and enjoyed in a variety of beautiful settings.